Rekluse was founded in Boise, Idaho around 2002 when local dirt bike enthusiast, Al Youngwerth, came up with the idea for a more reliable clutch.  Today, the company builds innovative, high-performance clutches for dirt bikes, adventure bikes, Harley Davidson motorcycles, and ATVs at a state-of-the-art production facility in Boise.
Rekluse Marketing & International Sales Manager, Alison Kelsey says the company has been selling overseas since it opened in 2002, but that growth was mainly unplanned. "We sold into 34 countries but we had never had someone dedicated to building a distributor network. A lot of what I did the first two years involved laying the groundwork with distributors so we would be good partners."
Among the first decisions she made as export manager was to enroll in a mentoring program created by the Idaho District Export Council (DEC) called Export Excellence (known nationally as ExporTech). The program matched newcomers like Kelsey with a DEC "Coach" who was a veteran exporter. Kelsey's coach was Gerd Uitdewilligen, Director of International Sales with PakSense (now Emerson), a temperature-monitoring system used by shippers. The program also tapped the brainpower of international business school students at Kelsey's alma mater, Boise State, who provided customized market research.
Over a three-month period, Kelsey met regularly with her coach and students and focused on writing a business plan to expand exports.
"In general, my advice to Alison was to pick one market and try to do it well; don't try to be everything to everybody," recalls the Dutch-born professional. "And, make sure all your agreements with distributors are written down."
Uitdewilligen oversaw the student research efforts, which identified Germany, France, and Italy as top candidates for the investment of attention and resources, based on demographics and recreation trends.
Unlike many business plans, this one was implemented. On Uitdewilligen's recommendations, Kelsey connected with the Idaho Department of Commerce and received $18,000 in STEP funding that helped finance a pair of overseas marketing missions. The first was to Europe, culminating in a new agreement between Rekluse and a distributor in France, and what Kelsey calls "strengthened relationships" with the company's other European partners. Kelsey also traveled to South America to research Brazil and Chile's market potential.
During the first year of implementing the new plan, Rekluse's export footprint rose to 42 countries from 34, and exports increased to 27 percent of company sales. International sales rose 52 percent—a surge that helped the company earn SBA's National Exporter of the Year designation. Rekluse received the President's "E" Award for Exports at a ceremony in Washington, D.C.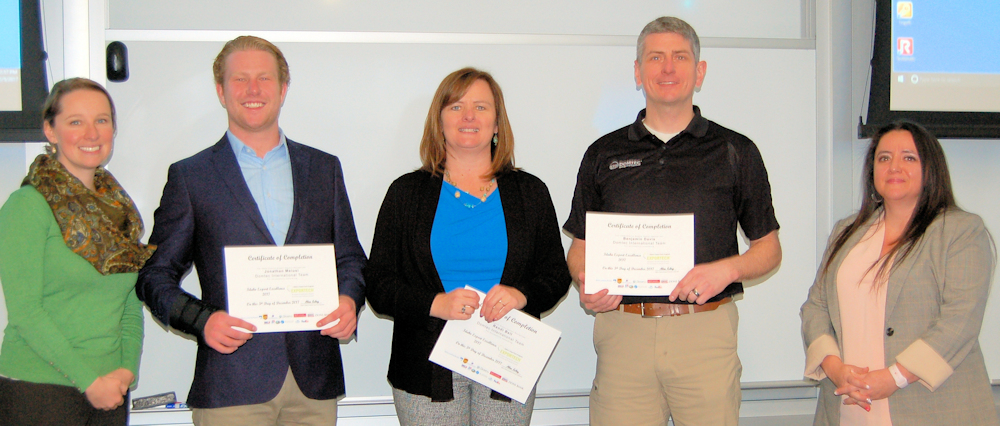 Kelsey decided to pay it forward. She joined the DEC and mentored others as an Export Excellence Coach. Over the years, Kelsey advanced professionally at Rekluse and at the DEC where she served for several years as the organization's Chair.